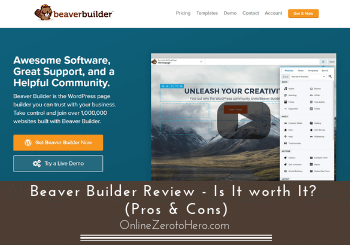 WordPress is a great system to build websites easily. To make it even easier for us that do not code, more and more themes and page builders are created.
One of the names you might have heard of is the Beaver Builder.
But is Beaver Builder worth it and what can it actually do for you compared to other options?
This is something that is good to know before installing it so you do not end up wasting a lot of time (and potentially money).
Therefore, this Beaver Builder review will show you what you get, and show you both the pros and cons so you can easily find out if it will be worth it for you.
Beaver Builder at a Glance
User-friendliness

Features

Value for money
Summary
Beaver Builder can be a good plugin to use to create WordPress websites like you want them without having to use any coding.
It has good features, some nice templates, and it also has a free version so you can get to test it before buying.
Compared to similar options, it does, however, not have quite as many features included as a standard and it can end up being expensive compared to similar options.
But definitely a legit and great page builder depending on your needs and budget.
What is Beaver Builder and what does it offer?
Page builders and flexible themes are something most people that are working for WordPress are looking for.
That is why so many of these options have been developed.
When WordPress then did an update of the default editor to make it more flexible (called Gutenberg), many were wondering if it would then no longer be necessary to have other page builders or flexible themes.
However, I must say that if you work a lot with WordPress you have probably figured out that even Gutenberg has a lot of limitations and it is still great to look for proper themes and potentially a page builder.
Beaver Builder in such an option – in fact, it is both a page builder you can install as a plugin, and it is also a theme.
In this review, I will, however, be focusing on the page builder as it can be used for most themes and you, therefore, can see if it is an option for you without having to change your theme.
So let's start by going over some of the main features you can use the Beaver Builder for and how good the options are, so you can see if it is the right option for you.
Feature 1 – Drag & drop function
The purpose of any page builder is to make it easy for you to build the websites like you want them without knowing any coding.
For that reason, many page builders have a drag and drop function where you can drag different sections to the website and build it while seeing how it will look right away.
Beaver Builder also has a drag and drop function like this.
It actually makes it quite easy to build the basic frame and it has some nice flexible settings in relation to, for example, creating rows and columns.
If you are brand new to WordpPress this might, however, be a bit confusing even though it is supposed to be easy.
Not because it technically is difficult but because you need to have a bit of design skills to make it look decent. That is not a challenge only for Beaver Builder but for any page builder.
But there are ways to get around that as I will get to later.
For now, you need to know that Beaver Builder is pretty flexible and fairly easy to use in relation to building the basic frame of your website.
However, even though many people like that you can build on the front end and being able to see how it will look while building it, I personally prefer having the choice because sometimes certain things are just easier to do in the back end, in my opinion.
With Beaver Builder, you cannot build in the back end. Here you will just see some basic settings and a button to launch the builder on the front end.
Personally, I am mostly using the Divi theme and builder because that allows me to choose and I can build both in the back end and on the front end and I like having the choice.
This is, of course, a matter of personal preferences. If you prefer only building on the front end, then Beaver Builder has some pretty good options.
Feature 2 – Modules / functionalities
After building your frame, you, of course also need to have some modules to put inside the rows and columns you have created to create the design you want.
You can find quite a lot of these modules in Beaver Builder.
You can insert modules for text, photo, sliders, buttons, sliders, and more.
It is not the biggest selection compared to some other page builders but it has a very good amount. And definitely more and better options than the default WordPress editor.
Also, if you should need more options, there is a WordPress plugin called the Ultimate Addons for Beaver Builder.
If you install this, you can access more options.
Just be aware that there is both a free and a paid version of this addon plugin. The free version gives you access to some extra features but if you want the full benefits you have to pay.
But Beaver Builder alone also gives good options but if you should need more and want to keep using the Beaver Builder, then you now know there is an extra plugin that might be able to help you.
Feature 3 – Beaver Builder templates
I mentioned earlier that if you do not have great design skills, it can be a challenge to use Beaver Builder or any other page builder for that matter.
But there is luckily a workaround for that. Most page builders and the best themes have templates you can install. Beaver Builder also has this option.
Templates are, in my opinion, great as they are such an easy way to get started and you can install a very professionally looking website in a few seconds.
And you can then, of course, adjust it. And if you use templates I would strongly recommend you make adjustments so it becomes your own and gets your touch.
Beaver Builder has over 30 templates you can choose from. Again, not as many as other page builders or themes (Divi, for example, has more than 100 and 2 brand new templates are added every week).
But 30 is more than enough for many needs and is a great way to get started with your design. But whether the templates are the right and if there are enough, of course, depends on your needs.
Feature 4 – Switch themes without losing content
An issue there is with some page builders is that you are more or less locked to keep using them forever once you start using them.
The reason for this is that the content you create with them is using specific shortcode and if you change WordPress themes or disable the page builder, everything will look very weird and all the elements will in some cases just be displayed as codes.
A great thing about Beaver Builder is that this does not happen if you use it.
If you stop using it, the content will be transformed into WordPress content and will still look decent. There might still be some changes you have to make but that will always be the case if you decide to change the theme.
But that it is possible to still use the content without having to make huge changes, if you should decide to stop using Beaver Builder, is a huge plus, in my opinion.
Feature 5 – Save and export templates
Once you have created a beautiful design and maybe have spent quite a bit of time doing that, it is likely that you need to use more or less the same design or setup again.
That is why it is important to have a page builder where you can save and export your templates.
This is possible with Beaver Builder so you can either easily use it for other pages on the same website or you can export it and use it on other websites as well.
This is something most page builder can do so it is not something special compared to other builders. But nonetheless, it is a very important feature and it is great it is also a part of Beaver Builder.
Can you get support?
No matter how new or how experienced you are with building WordPress websites, you will likely need a bit of support when you start using a new theme or page builder.
That is why it is important to know that you can get support and easily find tutorials for the option you choose.
Beaver Builder has quite an extensive knowledge base as they call it.
This is a support section with explanations for all kinds of ways to use Beaver Builder.
The tutorials are a mix of video and text-based. So if you decide to get it and need help to get started or to figure something out, this is a good section to check out. It is freely available on their website.
You can also get direct help from the support team. But this depends on the membership type you choose. So let's go over that next.
Is Beaver Builder free or what is the cost?
Beaver Builder is free to try for everyone, and you can just download the plugin for free and start using it.
However, the free version has a lot of limitations. It can be a great way to see how it works and if it has would you are looking for.
And you can also use it to build very simple pages – especially if you also download the addon plugin I mentioned earlier.
But if you want to use the Beaver Builder a lot or get access to many of the most useful features, you need to pay for it.
You will, for example, not get access to any templates with the free version. And you will also get very limited access to the modules as you will only get access to the most basic ones.
So if you want to use it long-term, it might be worth considering to upgrade to the paid version – you here have several options which you can see below.
It is important to mention that the prices you see above are for a 1-year subscription.
If you decide to renew your subscription, you will automatically get a 40% discount so for the following years it will be cheaper.
Also, be aware that Beaver builder offers a 30-day money-back guarantee. So if you buy and find out it is not for you anyway, then you can get your money back within 30 days which is always good to know.
In addition to the price for the premium page builder, Beaver Builder also has an extra option called Beaver Themer.
Themer lets you create layouts for archive pages, template an entire post type, 404 and search pages, and create parts like headers and footers, which the regular Beaver Builder does not allow you to do.
This costs around $147 extra – as far as I could find out, this is also a yearly subscription.
So if you want the most flexible version of Beaver Builder and then get Themer and maybe also the addon plugin, it actually can end up being quite expensive compared to similar options.
But you can, of course, also choose to just get the paid page builder if that is enough for you.
Final verdict
If you are looking for a page builder for WordPress, then Beaver Builder might be the right one for you.
It all depends on your needs and it is not a good option for all, in my opinion.
So let's finish this review by summing up the pros and cons so you can get a better overview before deciding if it is for you or not.

Pros:
It has a free version you can test
Fairly easy to use
Good tutorial section
Your content will still be available if you stop using it

Cons:
You cannot choose to build in the back end
Limited available templates
Can end up being expensive
Overall, I like Beaver Builder as a page builder. But I must also be honest and say that it is not my favorite page builder and I have tested quite a few.
Personally, I prefer using the Divi theme with its page builder as I find it more flexible and that it has more options – and it also gives better value for money, in my opinion.
Especially because Beaver Builder can end up being expensive if you get the extra addons and the extra plugin to make it truly flexible.
But Beaver Builder definitely is a good page builder and if you are new to using page builders, it is especially nice that it has a free plugin you can use to test it before deciding if it is for you or not. Just be aware that the free version has very limited options.
I hope this review has given you some good insights into what the Beaver Builder is and what it can do for you so you now know if it is the right option for you or not.
If you have any comments, questions, or have any experiences with Beaver Builder yourself, I would love to hear from you in a comment below.