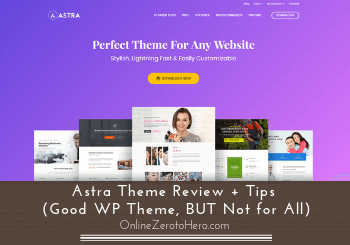 Astra Theme for WordPress says it is the perfect theme for any website.
But is this really true or is it just hype?
I decided to put it to the test and see what it really offers and if it is really a great WordPress theme.
In this Astra Theme review, I will give you all the details about my findings – and let me just reveal right away that it is a good theme, BUT it is not a theme for all, in my opinion.
Below I will go over both the pros and cons so you can easily find out if it is the right theme for you or not.
User-friendliness

Flexibility

Value for money

Support
Summary
Astra theme claims to be perfect for any website. It is a good and flexible WP theme, but in my opinion, it is not always a good solution.
You can do a lot with it but it is not as user-friendly as many other themes so it can take some patience to get started. In addition to this, you need to install quite a lot of extra plugins to get access to all the features of the theme.
Luckily it has a free version so you can try it out without any risk if you think it might be for you. This might especially be relevant if you have seen one of their premade templates you like.
However, to get flexibility, you need to upgrade to a paid version and here the value for money is just not as good as for many other premium themes, in my opinion.
But overall, it is a good theme that can be worth checking out.
What is Astra Theme and what does it offer?
I regularly teach classes about how to build WordPress websites for beginners.
One of the questions I get asked the most often is which themes are the best – there are thousands so that is a difficult question, but I enjoy testing new themes often to see what is out there.
So when I heard about Astra and that it says it is the perfect theme for any website, I had to test it.
It is a company that has existed for more than 9 years so it seems like it is a sustainable company which is important when you choose a theme, so you know you can count on it to regularly be updated.
It has been downloaded more than 300,000 times.
So far so good, right?
But to find out if it is the right WordPress theme for you, you need to know what it can do and how good each of the options are.
So let's go over some of the main features below.
Let me just start by saying that Astra Theme has A LOT of features so I cannot go over every single small setting that is available in the theme.
I will go over some of the main features and how good these are, as this will give you a good idea about whether it is the right option for you or nor.
Then if it is right for you, you can play with all the small settings and extra features after installing it.
Feature 1 – Design and layout options
When choosing a WordPress theme, it is important to find a flexible theme as it makes it possible to keep growing with your site and business without having to change the theme again later.
Therefore, the design and layout options and the flexibility of these are very important for a theme.
And I must say that Astra has quite a lot of settings and options.
If you are new to WordPress, it might be a bit overwhelming but that will likely be the case for most themes. So it will just take a bit of time to get started with and find out how to adjust Astra to the design you are looking for.
You can among other things make transparent headings, sticky header, mega menu, make a dedicated sidebar for specific pages, make boxed layout, full-width layout, fluid layout, and more.
It is also possible to set the colors and typography which is very important so you can get it to fit your overall brand and design.
So overall you can adjust the Astra theme a lot and it is definitely possible to create some beautiful websites with it.
However, I must admit that if you start with a website from scratch, the Astra theme is not the easiest to start with. It can, in my opinion, actually be quite confusing compared to many other themes.
Luckily, they have an option that helps with this as you can load premade layouts but I will go more into this option later.
For now, let's conclude that Astra definitely has a lot of settings but it is not the easiest to get started with so it will likely take a bit of patience if you start from scratch.
Feature 2 – Blog layouts
Blogging can be a very important part of a website. Personally, I make a living blogging, so obviously it is important to have good blog layout options in a theme for me.
But no matter what you are going to use your website for, blogging can be a way to generate traffic to your site and brand yourself, so it is, in general, important to have good settings for the blogging options in a WP theme.
Astra theme has some quite good settings for this. You can, for example, adjust the most necessary things like where/if the title, date, author, category, etc. should be displayed.
This is something that, in my opinion, is necessary to be able to easily adjust. This is just not the case in all themes but luckily it is possible with Astra.
In addition to this, you can choose different layouts for your blog roll so you get the right look when displaying your latest blogs and articles.
You can, for example, use a grid layout to display your blog posts, a list layout, masonary layout, you can highlight your first post and more.
So the blog settings and the layout settings for this are quite good with the Astra theme.
Feature 3 – Import premade sites
I mentioned earlier that if you start with building a website from scratch with Astra theme it can take some patience and is not the most user-friendly.
However, they have the option for you to then import premade layouts and designs to get started easily.
This is something more and more themes offer and, in my opinion, this is a great way to quickly get a professional-looking website even if you do not have much design experience.
In Astra, this is strangely enough not an in-built part of the theme as it is with most other themes that offer this I have tested.
You have to install the Astra Starter Sites plugin to get access to these premade designs.
Below you can see a video about how to install the plugin and import the sites.

This is pretty cool as you then quickly have a beautiful site you can then adjust and make it your own.
However, even though the video above makes it look very nice and easy, there are a few things it does not tell that you need to know before starting to use this option.
First of all, when you have found the template you want, you go to the settings and can choose what aspects to import.
Be aware that one of the things you need to install to get the full design is more plugins. It is easy as Astra can just automatically install the needed plugins.
But for most of the templates, you need to install a minimum of 3-5 extra plugins. For example, many of the templates are created in the Elementor or Beaver Builder page builders and these need to be installed before you can use the templates.
These are great page builders but the issue with Astra's templates, in my opinion, is that before you have your premade template installed, you might have 6 extra plugins installed (the Astra Starter Sites plugin + the necessary plugins to get the design to work).
It can be good to limit the number of plugins to increase the speed and performance of the website, and with Astra, you very quickly get a lot of plugins installed that are not necessary with many other themes or page builders.
With the theme Divi you, for example, do not have to install any extra plugins to start importing a premade template and there are hundreds to choose from and new ones are added all the time.
So even though I think Astra has some really beautiful templates that can help you get a professional-looking website very quickly, it is just not as user-friendly as on many other themes I have tried that also offer premade templates/designs.
It is not necessarily a problem with the extra plugins and the extra steps to get the templates installed but it is just something to take into your overall considerations when deciding which theme to go for.
So my suggestion would be to check out the templates Astra offers, and if you really like some of them and think they are a perfect match for you, then it can be a great and easy option.
If you are not sure, then there are other sites with many templates as well, and in many cases, they make it easier to start using them, in my opinion.
Feature 4 – Astra widgets
Widgets can be a great way to display important information on your WordPress website. Astra has quite a lot of widgets and has around 10 widget options which is quite good for a WordPress theme.
In addition to this, Astra has an extra widget plugin you can install (yes, yet another plugin).
The point of the Astra widget plugin is that it should be easy to add widgets with particular information and fetch them anywhere on your website. For example, the most wanted information like the business address, social profile links, and list icons.
The Astra Widget plugin lets you create widgets to add an address, a social profile widget and list icons that you can add into your header, sidebar, footer, etc. on your website.
So the idea of it is nice and can be helpful. But again you need an extra plugin to get this function. Overall, there are a lot of extra plugins you need to get the full functionality of the Astra theme compared to many other themes.
But if you need this feature, the plugin is free and very lightweight and easy to use.
Feature 5 – Integrations
Astra has integration with a couple of other software solutions.
It, for example, integrates with the LifterLMS and LearnDash which are software to offer online courses.
So if you offer online courses and use any of these softwares, then Astra offers easy integration with them and can help you build a website where you offer online courses.
Recommended: See the Most Flexible WordPress Themes
Astra Theme pricing – free vs paid?
Now you have an overview of some of the main features of the Astra theme.
Before deciding if it is for you or not, it is, of course, also important to consider the price and the value for money.
One thing that is great about Astra is that it offers a free version so you can get to test it without paying. You can just find the free version inside WordPress and download it and start using it.
However, be aware that as with most WordPress themes, the free version has a lot of limitations. You will, for example, only have access to very few premade templates, and most of the design options are only available with the premium version.
That is very normal with WordPress themes and they, of course, also need to make a living so they cannot just give everything away for free.
But you just need to know that to be able to really get any options with Astra, you would likely need to upgrade to a paid version.
You have several options if you want to upgrade to Astra premium.
Be aware that these are the pricing options as of writing this review. They might be subject to change.
But as you can see, you have 3 options to choose from depending on how many features you need. All three options include you can use the Astra theme for unlimited sites, which is very nice.
Just be aware that the prices above are annual prices. So if you need most of the features, it can end up being a bit expensive.
You can also buy the lifetime license and then it is a one-time payment and you can see the pricing of these below.
If you have a business website, it is not a big expense to get a good theme.
But I must say that there are, in my opinion, themes that give better value for money – it, of course, depends on your needs but you just need to know that there are also other options.
I, for example, use the Divi theme for several of my websites. That is an extremely flexible theme that has a lot of features and is constantly updated with new features.
That theme costs around $89 for a yearly license and $249 for a lifetime license – and this includes everything and you can also use it for as many websites as you want to.
So Astra can be a good option and if you are already making money online or use it for your business, it is not that big an expense. But there are, in my experience, quite a few very good themes that are cheaper with at least the same value.
Can you get support?
An important aspect of any paid theme is how good the support is so you know you can get help if you should run into problems.
Astra luckily has several support options.
First of all, you can follow their tutorials to get help without having to contact them. Here you can either visit their knowledge base or their YouTube channel.
The knowledge base is on their website and has quite a lot of articles and tutorials.
You can easily get an overview and find step-by-step guides to get started. So the knowledge base is definitely a great place to get started if you need help with Astra.
They also have a YouTube channel.
Here you can find a lot of video tutorials which can be a great way to learn. Some of the videos are very long and thorough so it is possible to be taken through many aspects of Astra step-by-step.
However, which of these options is the best depends a lot on what you need help with.
The knowledge base is easy to navigate on and find relevant help. The YouTube channel is more difficult to use if you have a specific question as the videos are just added in random order.
So for specific questions, I think the knowledge base is the best place to start. If you need inspiration for how to use Astra theme, then their YouTube channel can be a great source.
The last option you have for support is to submit a ticket.
This is very important so you know you can get help if you should run into technical problems, so good to see Astra has this option as well.
You can find this option on their website in the footer by clicking "support".
Who is Astra theme or who is it NOT for?
I mentioned already at the beginning of this review that I think Astra is a good theme but not for all.
So let's go over who it then is for and not for.
I would, first of all, say that I do not really think Astra theme is good for beginners. It is just not very easy to get started with if you are planning to lear everything from scratch yourself.
The only reason you should get it as a beginner is if you have found one of their templates you really like and then it might be worth it to import it and get started quickly. Or you join a training program like Authority Hacker, where they recommend this theme and will show you how to easily get it set up.
But to get the most out of the theme, I think it is good to have some experience with WordPress.
Especially because you need a lot of extra plugins to get the full functionalities and as a beginner, you might not be able to critically assess what is really necessary and what you need to do to still make sure your website is performing properly.
However, also as an experienced WordPress user there are themes that give more flexibility and make it easier to get started without having to install a lot of extra things, in my opinion.
But the good thing about Astra is that you can try it for free as it has a free version. So it can be worth testing out no matter who you are and see how you like it if you are still in doubt after reading this review.
Final verdict
Astra theme definitely has potential and you can make some beautiful and functional websites with it.
But that does not necessarily mean it is the best option for you. In this review, I have tried to make it clear what you can use it for and who it might be for and who it might not be for.
But let's finish this review by summing up the pros and cons so you can get a better overview before making your final decision.

Pros:
Has a free version you can use to test
Beautiful premade websites you can easily load
Many adjustments and settings possible
Good support options

Cons:
Not quite as user-friendly as many other themes
You need quite a lot of extra plugins to get all the features
Not as good value for money as many other themes
Ultimately it comes down to your preferences, your needs, and your budget if the Astra theme is right for you or not.
Before investing in it, I would, however, suggest you to first try the free version and see how you like it. And also, maybe try out other flexible WordPress themes to compare them.
Because to get the full functionalities of Astra, you need to pay quite a lot so it is important to also first look into other options that might give better value for money and that might also offer more options for you.
If you have any comments, questions, or have any experiences with Astra theme yourself, I would love to hear from you in a comment below.