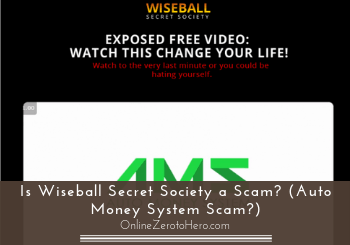 Have you come across a program called Wiseball Secret Society and the "Auto Money System" that they are offering?
They are claiming that this secret system can provide a life-changing income for you and it will be quick and easy.
Thankfully, you are doing your part by conducting an investigation and that's the reason why you landed on my review.
So is Wiseball Secret Society a scam or is it really a fast and easy way to make money online?
I will provide you all the info you need in this Wiseball Secret Society review, so you can better answer that question on your own.
Let's begin.
Wiseball Secret Society at a Glance
Training

Tools

Value for Money

Income Potential
Summary
Wiseball Secret Society is a program that claims it can provide people with huge profits using an automated system. The creator, Kathy Graham, also claims that you just need to activate their system and you can just sit back while the money pours into your account.
In my opinion, these claims are too good to be true, because there's no shortcuts or secret systems that can generate money for you online. Based on my experience as an affiliate marketer, it is possible to earn a decent income online but you need to invest your time, effort and a bit of patience before you succeed.
Honestly, I don't recommend this program due to the several red flags I have uncovered from their sales page. I would suggest that you look for other legit online opportunities that can help you make money online the right way.
What is Wiseball Secret Society and what does it offer? 
The most significant selling point in Wiseball's website is the claim that this is an automated system that can provide huge profits with just a push of a button.
The owner and creator of this system is "Kathy Graham," who says she was once struggling before in her life but found a secret loophole to making money online.
She also says that it is her obligation to share it with other people, or to whoever find their sale page that is.
Kathy will also claim that you just need to click the mouse to activate their system and just sit back while the money pours into your account.
She even goes far by saying that you are now making money while you are watching the sales video, which to me is a bit overboard.
In my opinion, these types of claims are somewhat familiar to several low quality and somewhat misleading make money online programs I have reviewed in the past.
Apparently, upon joining this program you will have the opportunity to make at least $1-2k per day, so imagine how much you will make after 1 month?
Yes, you got it right! It will be in the thousands of dollars and that, according to them, will give you financial freedom.
But can they really deliver on their promise?
Based on my experience as an affiliate marketer and someone who makes a full-time income online, it is highly unlikely simply because there's no shortcuts or loopholes that can provide you instant money online.
Wiseball Secret Society Red flags 
The first time I visited Wiseball's sales page, I already found several warning signs that I think you should know about.
As a consumer, we have the right to know all the details about a program before we buy it. You also need to know if a system can deliver the results that you're looking for.
Otherwise, if it took your money but did not live up to its promises, then it could fall under the category of a scam and we know there are lots of them on the web today.
So, here are the warning signs I have uncovered from their site.
Red flag #1 – The secret system is not explained on their sales page 
When you watch their sales video, it's clear that the narrator is more interested in presenting the income claims rather than explaining to you how their system works.
If you're like me, then you want to know the whole process and how their system can generate the income they are claiming on their sales page.
You would also like to know your role and the steps you'll need to take to succeed in their program.
If you don't have a bird's eye view of the whole process, you can't really say if you can make money using their program.
Based on my experience, it looks like it is a system based on affiliate marketing since the creator keeps talking how to make money through commissions.
In general, affiliate marketing is a legit and definitely a real way to make money online, but it should be done correctly. But this might not be the case with this program since you are not told much about how the system works.
In my opinion, this is something to be careful about and you should consider this red flag before you decide to join this program.
If the creator of the program is not transparent enough to share at least some details about their program, then you should, in my opinion, be wary because you'll never know if that program will work for you or not.
Recommended: Click to See the Best Way to Make Money Online
Red flag #2 – They are using fake testimonials 
One of the most significant red flags I found on their sales page are the fake testimonials they are using on their video.
They are using several freelancers from Fiverr to create a testimonial video praising their product. I also found out that these freelancers are also present on the Easy Retired Millionaire program, which I have reviewed in the past.
For me, this is unacceptable since the earnings are usually overblown. If their system is really working, then they should let real customers do their testimonials.
In my opinion, fake testimonials can greatly affect the trust rating of people towards a program. That's why you should also take this warning sign into consideration before you make your final decision.
Red flag #3 – Who is Kathy Graham really? 
Another thing that I would like to point out in this review is the identity of Kathy, which is supposedly the owner and creator of Wiseball Secret Society.
If you're going to check their sales page, there's no reference of her anywhere even on their video.
In fact, we will never know her true identity since it was never mentioned at all on their site. How can you trust a program when you can't even contact its creator and cannot verify her identity?
Sure, they have a contact page there, but you don't know who are the people you're dealing with.
In my opinion, it's clear that they don't want you to know who Kathy Graham really is or if she really is a real person.
So, I consider this offense (hiding the true identity of the owner) another big red flag that you should think about.
Red flag #4 – Are there upsells? 
The initial cost for this program is $37 but when you see their checkout page, you'll soon see that there's a VIP Package upgrade, which according to their description has free bonuses and automatic updates.
This program is being sold on Payzeno, a platform that sells digital products like ClickBank.