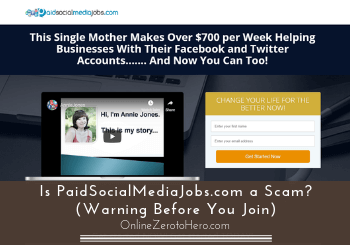 Making money online by just doing some easy tasks on social media sounds great, right?
This is what PaidSocialMediaJobs.com promises to help you with.
But is PaidSocialMediaJobs.com a scam or is it really a great way to find social media jobs?
I have some experience working as a social media manager myself and have taken a deeper look at the platform. What I saw was not pretty.
In this review, I will show you some warning signs you NEED to know before joining.
PaidSocialMediaJobs.com at a Glance
Training

Tools

Value for money

Income potential
Summary
Being a social media manager is definitely a real and legit way to make money. However, it will unlikely be as easy a way to make money as PaidSocialMediaJobs.com might have you think.
In addition to this, the platform has many big warning signs like using fake news stories, misleading calculator, no info about the owner, and more. It is therefore NOT a platform I recommend.
Click to See My Top Recommended Way to Make Money Online Instead
What is Paid Social Media Jobs and what does it offer?
PaidSocialMediaJobs.com claims to help you make a full-time income by just doing easy tasks for companies on social media.
The website has been around since 2012, so it is not new, but this does not guarantee its quality – and as you will see in this review, the quality is something to be concerned about in my opinion.
It offers you to become a member, and after having joined, you will get access to a list of social media jobs you can apply for.
In addition to this, you will get access to some basic training/information about how to become a social media manager after you join.
I have not checked the info you can find after you join myself, as I have quite a lot of experience with online marketing and I have also worked quite a bit with social media for clients.
Therefore, I know how it really works and what to expect, and I therefore saw a lot of warning signs when it comes to Paid Social Media Jobs, and did not want to spend money on this.
But more about these warning signs you need to know a little later.
Let's first look into the potential of even making money online like this.
Recommended: Click to See My Top Recommended Way to Make Money Online
Can you make money as a social media manager?
Social media is without a doubt popular all over the world. According to Statista, it is even projected to keep increasing.
It is projected that more than 73% of the world's population will be using social media by 2021.
This is a huge number of people, and of course, companies will also be using social media to connect to their customers.
So PaidSocialMediaJobs.com is right about the potential, as many companies need help with managing their social media accounts.
However, I have worked with social media for clients myself, and the idea that PaidSocialMediaJobs.com gives you that you basically do not need any experience and just need to do simple tasks everyone can do is not exactly true.
In one of the presentation videos I saw of PaidSocialMediaJobs.com, it even claims that big companies like McDonalds and Coca-Cola are looking for people like this to take care of their social media accounts.
No doubt that big companies like this invest in social media and employ people to take care of some tasks.
BUT big companies like this will not just hire a random freelancer with no experience. They are very professional and expect the same from its employees.
That is actually the case for most companies, and most often they will require certain skills before consider hiring anyone to take care of the social media accounts – it is the face of the company, so they will make sure it is done correctly.
According to Forbes, there are quite a few skills you need to have as a social media manager to be able to get the good jobs.
So it is true that you can earn money as a social media manager, and there are also jobs that do not require a lot of experience and skills.
But overall you should not expect it to be as easy to make a living as a social media manager, as you might think after having visited the sales page of PaidSocialMediaJobs.com.
Warning signs you need to know!
In addition to what I have mentioned above about the reality of what it takes to be a social media manager, PaidSocialMediaJobs.com has several other big warning signs.
You need to know these and consider them so you know exactly what kind of platform it is before you join.
Warning sign #1 – Unknown owner
You are told that the owner of PaidSocialMediaJobs.com is Annie Jones.
You are also told the story about how she struggled to pay her bills until she learned how easy it was to make money by taking care of the social media accounts of companies.
She then spend time developing a platform that could give other people the same opportunities.
There is, however, no real proof of this being a true story – in fact, I spotted a sign that makes me question who the owner of the platform really is.
On the sales page, there is a payment proof that says "this is my balance now".
If you notice the name, you will see it does NOT say Annie Jones. It says Kate.
A little strange, right?
Based on this, I am not at all sure who is really behind the platform. When there is no transparent info about the owner, it is a big red flag in my opinion.
Warning sign #2 – Fake breaking news story
On the sales page there is a breaking news story where a supposed news program tells about the opportunities of making money by being a social media manager – and then you are told PaidSocialMediaJobs.com is a great place for this.
This is NOT a real news show!
If you are used to watching the news, you can maybe see this from the quality of the video – especially in the part where supposed members tell their experiences.
However, I have also found further proof this is produced just for this purpose.
The "news anchor" is, in fact, selling videos on the freelance portal Fiverr, where you can buy a breaking news video.
So it seems like the breaking news show is just a video that was ordered online.
In my opinion, this is a dirty sales trick, and you have to ask yourself why they need to create positive videos like this themselves?
If it really was such a great platform, would it not be possible to show real testimonials and real media exposure?
Warning sign #3 – Misleading calculator
Once you have given your email to join, you get to another page that tries to convince you how great it is to join.
On this page, you will see a calculator to give you an idea about how much you can