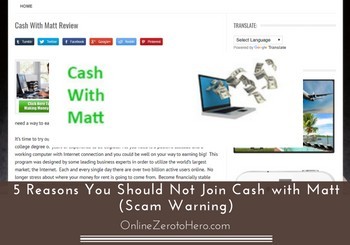 Cash with Matt is another program that promises you can make a lot of money online by following their directions.
But is Cash with Matt a scam or a real opportunity to become financially free quickly?
Let me reveal right away that I do not see much value in this program – but you have probably guessed that already from the name of this article:-). In this Cash with Matt review I will explain you why, and show you the reasons I think it is a "program" to stay away from not to waste your time.
Cash with Matt at a Glance
Training

Tools

Value for money

Income potential
What is Cash with Matt?
Let me start by clearing up some confusions about the Cash with Matt program. There seems to be two programs/websites with the same name. They are cashwithmatt.com and cashwithmatt.net.
The .com website is mostly just a page similar to the Wifi Millionaire System that is really meant to recruit you to an expensive program instead and is not a program in itself, and for that reason I do think it is something to be careful about joining. If you want to know more about this website, you can click the link above and read about the Wifi Millionaire System, as they are more or less built in the same way and promotes the same program.
In this review I will however focus on the .net website. This is actually a different "program" and promotes something else, which can be a bit confusing, as they both have the same name. It is however still a program I do not think is worth the time, as I will show you throughout this review.
So how do you then make money on Cash with Matt?
This is not easy to find out. When you read on the website, you will be able to read a lot about the advantages of making an online income, and about the freedom this can give. I completely agree on these points. I do however not agree on the approach to get there.
Actually, Cash with Matt does not really offer you an approach to get there. Even in the section that describes how you earn money with Cash with Matt, it does not give you any real information. It just goes into saying that it is developed by leading business experts – it does not say who or experts in what. You are only told that once you register, you will get access to instruction videos that explains the whole so-called system.
But what actually happens, if you decide to join might be a little surprising, as I will explain now.
What happens when you join?
Even though I from just looking at the info on Cash with Matt could see that it is a program I would probably not get antyhing out of, I decided to click the join button to get some more information, and see what the system would be about.
The thing is that no matter what join button you click on the site, it is not really a button. The sign up form on the image above looks like you can fill in some information about yourself. But like any other button or sign up form on the site, it is just an image with a link.
So no matter what image or button you click to join, all that happens is that you are taken to another website called Money Finder USA. Here you can then sign up, but it seems that Cash with Matt is just a page to try to direct traffic to this site by attracting visitors that are looking for another program with a very similar name (that is probably why there is both a .com and .net version of Cash with Matt).
Even though Money Finder USA looks appealing, be careful about joining for several reasons. First of all because the Better Business Bureau is warning against using unofficial websites for the practice they are offering. Secondly, by signing up for Money Finder USA you have to agree to the terms, which means you will allow their partners to send you messages and call you.
So it means that you should probably expect to start receiving a lot of marketing calls and messages. So overall you cannot actually join Cash with Matt, but it just sends you to another site to get you to sign up there.
Recommended: Click to Read About My #1 Recommended Way to Create an Online Income
Can you make money with Cash with Matt?
As you have probably already figured out, you can not as such make money by joining Cash with Matt, because you cannot even join the program.
It is just a page to recruit members for another website.
I have seen several other sites that are built the same way, with more or less the same design, the same superficial content, and that send you to the same "program" – a program that offers a practice that you should be very careful about according to the Better Business Bureau.
But to make it even more clear why Cash with Matt does not offer anything of value in my opinion, let me give you the 5 reasons I think it is a website that is waste of time.
5 Reasons you should stay away from Cash with Matt
Reason 1 – It does not give any information about the program:
Any website or program that does not give you any real information about what you will actually be doing until after you join, makes me very suspicious. If they really have a great system, why not reveal a little about it. If it is just a superficial explanation about how great it is to make money online that feeds the myths of making money online, it is a big red flag to me.
Reason 2 – It uses promotion video that is not relevant:
On the website, Cash with Matt has a YouTube video embedded. At first, it could seem it is a video that tells something about the program. It is however not. It is just a video taken from MSNBC that explains a program that makes it possible for some people to work from home not to commute to work every day. So it seems to just be a video to make it look more legit, as it is a professionally made video, but it has nothing to do with Cash with Matt.
Reason 3 – Tries to recruit you for another program:
That Cash with Matt does not offer any valuable information but is just a page to send you to another page, clearly makes it a waste of time. If it at least gave some good general advice or specific information, but this is not the case – just a complete waste of time in my opinion.
Reason 4 – No info about the owner:
This is something I always look at when testing a new program. If there is no information about the owner or who is behind a certain program, it is usually because there is something to hide. That there is a name of the owner does however not mean that it will necessarily be a legit program.
Reason 5 – It gives you no value at all:
I have already mentioned this several times in this review, but in my opinion Cash with Matt provides no value at all. It is just a waste of time, and it can potentially end up costing you a lot more time and potentially money, if you follow the links on the site and join there. So it does not only give worthless information, but also links to a risky website.
Final thoughts
As you can see, there are quite a few reasons to stay away from Cash with Matt in my opinion.
The website is however right about the freedom it can give to create an online income, which is also why so many people are interested in this. And let me say that it is definitely possible to create an online income – also if you have no previous experience working online.
To do this it is however important to stay away from programs that promise you to become rich overnight, or promise you can make money on autopilot without ever doing any work. Making money online takes effort and some time, but it can definitely be worth this time and effort, and it can also potentially generate a really good income.
I have tested many online opportunities, and my top recommendation is the learning platform Wealthy Affiliate, where you can find step-by-step training for all levels, unlimited support, and you can try it for free. This is the platform that has helped me create an online income, so if you are interested in creating an online income yourself, check out my full review of this platform by clicking the link below.
==>Click to Read More About My #1 Recommendation<==
If you have any comments, questions, or have any experiences with Cash with Matt yourself, I would love to hear from you in a comment below.