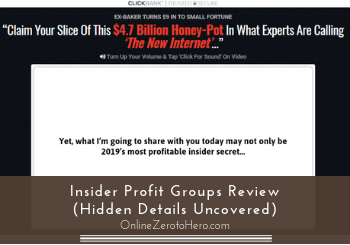 I received an email today about a new program called Insider Profit Groups, so I visited their website, and I found out they are offering you the chance to make $11,252 per month.
You may have visited their site and find their claims appealing, but since there are a lot of scam programs on the internet, you want to make sure if this is the real deal.
You're in luck because, in this Insider Profit Groups review, I will share with you some of the info that is not normally shared in other reviews.
I hope this review will help you make an informed decision about this program because there are a lot of things about it you really NEED to know before joining!
Let's start.
Insider Profit Groups in a Glimpse
Training

Tools

Value for Money

Income Potential
Summary
Insider Profit Groups is a program that claims it can help you make $11,252 per month and it is created by a so-called Steven Jason, and it leverages the power of Facebook groups.
This is supposedly the best group you can find on the web, and it will show you how you can use a loophole on Facebook to create $11k+ per month.
Honestly, I cannot recommend this program even though it's being marketed on ClickBank, because it contains several red flags that, in my opinion, raises its risk-level tenfold when joining.
The most significant red flag for me is the way they promote this program like it's so easy to earn a 4-figure income per month even if you don't have any experience or technical skills in affiliate marketing.
I urge you to look for other great opportunities online that can truly provide you the results you are looking for.
What is the Insider Profit Groups and what does it offer?
The first time I've visited the website Insider Profit Groups, it felt that I'd been there before because the layout of their site seems too familiar.
In fact, there is an incredible claim on the header text that says, "Claim your slice of this $4.7 billion honey pot," which is the same type of marketing tactic being used by other low-quality make-money online programs I have reviewed in the past.
According to the narrator, this program is created by Steven Jason, and it leverages the power of Facebook groups.
He will also tell you that the Facebook group he is promoting through this program is unlike any other FB groups you've seen out there before.
Insider Profit Groups is supposedly the best group you can find on the web, and it will show you how you can use a loophole on Facebook to create $11k+ per month.
He will also claim that you don't need any experience or any special skills to succeed with their program.
This sounds awesome, but fortunately, you're not the type of person who will rush into a program without doing your homework and research all the details before joining – that is good because you really need to know certain details about this program before paying.
Insider Profit Groups Red flags
Honestly, when Steven claims that anyone is qualified for his program and you don't need any technical skills or experience in online marketing to succeed with it, I became skeptical because it's unrealistic, in my opinion.
In fact, the moment I watched their sales video, I could already point out several red flags that are too obvious, and it's essential that I share these red flags with you since it can help you in your decision-making process.
Here are some of the red flags that I think you should know about and seriously take into consideration.
Red flag #1 – Triggering your emotion to lure you closer to their product
On the sales video of Insider Profits Groups, Steven will start by sharing his views of the realities and struggles of life like broken marriages, losing a home, going unemployed and the economic situation of the world today.
He will also tell you how he lost his family business after 20 years of hard work and the many struggles after that, which is quite too common in these types of programs nowadays.
They will always tell you the struggles they've been through and how this one secret loophole has changed their lives overnight.
Honestly, they are triggering your emotion to lure you closer to their product, and eventually encourage you to purchase it.
In my opinion, Steven is NOT interested in providing you important info about this program and how it can work for you, because he is more focusing on your emotions and how he can use it to sell his product.
This is a significant red flag to think about before you decide to buy this program.
Recommended: Click to Learn the Best Way to Make Money Online
Red Flag #2 – You can't turn $9 into a small fortune
According to Steven, you can turn a measly $9, which is the initial cost of Insider Profits Group, into an $11,252 per month income.
As for me, this sounds too good to be true because based on my research, I found out that the main task they want you to do is to join various Facebook groups and promote your affiliate offers there.
So, this program is actually using affiliate marketing as its business model and Facebook groups as a platform to promote your affiliate offers.
Honestly, affiliate marketing is a legit business model, but there's a downside to its second method, which is using Facebook groups to promote affiliate offers.
In fact, you can't just spam affiliate offers on various Facebook groups, because they have strict rules when it comes spamming and unwarranted affiliate offers will only put you in a precarious situation.
You can even be kicked out of a group if you promote your affiliate product without asking permission from their moderators.
In fact, most groups will kick you out right away if you do post affiliate links there. The ones that allow it is full of promotional links and people are mostly just they to post their own links but will never click yours.
So if this is the approach and tactic of Insider Profit Groups, then you should know it will NOT be as easy as it sounds to make a profit.
This is another red flag to consider before you make your final decision.
Red flag #3 – Expect expensive upsells
The initial cost for this program is $9, but it's clear that there will be upsells after your initial purchase.
Based on my research, I found out that they will offer you 3 upsells on after you join which includes the following:
Upsell #1 – Platinum Group $197
Upsell #2 – Crypto Millionaires Calendar $147
Upsell #3 – Diamond Profit Booster $97
The running total of these upsells is $400, which is far more expensive than the initial fee of $9.
If you have watched their sales video, Steven didn't reveal these upsells; instead, he keeps highlighting how cheap their program is but in reality – it's more expensive than you think.
So, it's clear that you will be spending a lot more than the $9 initial fee, which is considered just the entrance fee to their membership page.
In my opinion, they should have been more transparent on their sales page and revealed these upsells right from the very start.
It seems they are giving you an impression that you only need to invest $9 and that would be enough for you to earn thousands of dollars per month, which is unrealistic and unethical, in my opinion, because they are giving you false hopes.
Again, this is another big red flag for me, and I consider it as a deal breaker because of the lack of transparency on their side.
Red flag #4 – Steven Jason is NOT a real person
On their sales video, the narrator proclaims Steven Jason as the owner and creator of Insider Profit Groups, but when you search on their site, you can't find any contact details or at least some proof of his identity.
He doesn't even show his photo or at least his social media account that you can use to verify his identity.
In fact, at the bottom of their sales page, there is a notice in small text saying that they are using a "pen