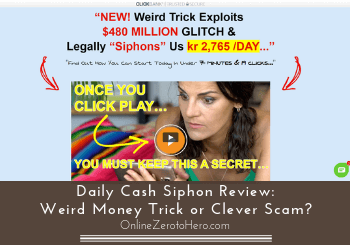 Have you heard about Daily Cash Siphon and are wondering what the weird trick to make money online it promises is?
And do you want to know if Daily Cash Siphon is a scam or if it really offers value?
Then this is for you – I have joined the system myself to test what it really offers.
In this Daily Cash Siphon review I will give you an inside look, so you can see exactly what to expect and find out if it is worth the investment or not.
Daily Cash Siphon at a Glance
Training

Tools

Value for money

Income potential
Summary
I was very skeptical before joining Daily Cash Siphon. It, however, turned out to be even worse than expected. Most importantly I did not hear back from support even though I never managed to get access to the members area – I only got access to the sales page that tried to get me to invest several hundred dollars.
Definitely NOT a system I recommend.
Click to See My Top Recommended Way to Make Money Online Instead
What is Daily Cash Siphon and what does it offer?
By just watching the Daily Cash Siphon sales video, it might be difficult to figure out exactly what this system offers and if it will be worth it.
It is however possible to spot during the sales video. Here you are told that the secret trick to make money online is through affiliate marketing.
Daily Cash Siphon, in particular, focuses on ClickBank products, which are mostly digital products, and they therefore often offer high commissions to you, if you promote the products.
I know from personal experience that it definitely is possible to make money online with affiliate marketing.
So it is a real way to make money Daily Cash Siphon is based on.
However, if you think it will be an easy way to earn online, you might be disappointed after joining.
I joined myself, and you should definitely know what you are getting into before investing any money – so let me explain more about what happens after you join.
What happens after you join?
I have tested and reviewed a lot of online marketing platforms and tools, and I right away saw a lot of warning signs when watching the sales video.
For example, the claims that it will be easy to make money online, you do not know who the owner is, that you are not told much about what you will actually learn, and more.
I however still decided to join and test it, as I found a link where I could get a free trial. I would honestly never have paid to get access to this program, as it has a lot of warning signs in my opinion.
But I decided to then give Daily Cash Siphon the benefit of the doubt and joined.
What you find after you join tells a lot about what you actually get and what you can expect.
You do not get direct access to the members area after joining.
You first have to go through a couple of sales pages. What these explain is very important to understand, to get an idea about what Daily Cash Siphon really offers.
I have created a video where I go through exactly what happened after I joined Daily Cash Siphon, so you can see for yourself. You can also see all the details in writing below the video:

Recommended: See the Best Way to Learn Proper Affiliate Marketing
Upgrade page 1 – The done-for-you system
Right after you join Daily Cash Siphon, you get to another sales page with another very convincing sales video.
Here you are told a little more about what the system really offers.
If you thought that you would be able to start making money in just 7 minutes, as you are told on the main sales page, just by getting the regular system, you will likely be disappointed when you get to this page.
It is a sales page where you are told you can buy a done-for-you website that can be used to sell the affiliate offers you want to promote.
You are told that you will get a lot more than with just the Daily Cash Siphon – with the regular system, you have to do all the work yourself.
You are told that you have to build an affiliate blog from scratch yourself.
But if you pay another $197, you will get a done-for-you website. In addition to this, there will be a monthly fee of $17 after this buy.
I agree that it is great to have an affiliate blog, but it makes we very upset to see that they are selling the idea in the main video that you can get started in just 7 minutes and 19 clicks.
When you then join, the first thing you are told is that you have to build everything from scratch yourself – unless you pay another $197.
From looking at the sales video and based on my previous experiences, I did expect something like this would happen, but it is still upsetting for me to see sales tricks like this used.
But this is not the only sales page you have to go through to get to the members area.
Upgrade page 2 – The traffic method
The second page you get to is then another sales page with another persuasive sales video.
This time it is talking about traffic. And you are told you need traffic to make any real money with affiliate marketing.
I definitely agree that traffic is an important part of making money on a website. Without traffic/visitors, you will of course not earn any commissions.
You are however not told anything about how they will help you get traffic.
I have worked with SEO and organic traffic to websites for quite a while, and I have also worked for several marketing agencies.
The thing is that there really is no super secret and fast free way to get quality traffic from what I have experienced.
It makes me very suspicious when you are told you will get access to a secret method that will send tons of quality traffic right away.
That is not quite how traffic works online. You can get fast traffic, if you know how to set up good ads. But this takes skills and practice and a budget as well, and is not something that will just happen automatically.
In addition to these concerns, you have to pay another $97 to get this upgrade.
So even before you get to the members area you have to go through these two sales pages with persuasive sales videos and are told that you basically need these upgrades to make it work.
That means that before getting to the members area you might end up spending more than $300 + monthly fees.
You, of course, do not have to get the upgrades, but the sales pages are clearly made to convince you that they are very important.
The members area
I was very curious to see what would be in the members area after the upsell pages, even though I honestly did not have high expectations.
This was however the message when I tried to log in:
I just simply got an error message saying that I used a wrong email even though it was the same email my order confirmation was sent to.
I of course right away send a message to the support to ask what was going on and how to get access.
Straight away I received an auto-reply saying that they would get back to me within 1 business day.
At the time of writing this review, it is now 1 week ago I send a message to the support – I have still not heard anything.
So that means I joined, got access to the upsell pages that tried to convince me to invest several hundred dollars – after this I could not get access to the actual members area.
This can maybe be because I was offered a free trial, and that free trial only gave me access to the upsell pages – there was however no info about this.
In addition to this, I gave them the chance to explain what was going on, but the support did not get back to me.
So clearly not a system I can recommend based on these experiences.
The reality of affiliate marketing
I just want to make one thing clear – affiliate marketing is definitely a real way to make money online.
I know this from personal experience, as I have learned to build successful affiliate blogs from scratch myself. To me it is one of the best long-term ways to make a real income online.
Before getting into affiliate marketing, you need to be realistic about your expectations.
The reality is that most people fail with affiliate marketing. There are many reasons for this, but some main reasons are unrealistic expectations and impatience.
Often because believing programs that claim it is possible to earn a full-time income online with very little effort and without taking the time to learn the skills.
This is just not the reality. It definitely is possible to learn affiliate marketing and to make money like this no matter your background.
But it will not happen overnight, and it will take some time and effort to make it happen.
Any program that promises you can make fast money without any effort by joining them is in my experience a program to be careful a