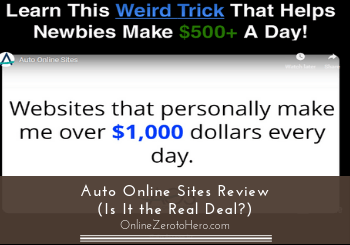 If you have visited the landing page of Auto Online Sites, then you might have seen their claim that you can easily make $1,000 per day just by copying a website that's been successful in generating money online.
This offer might have caught your attention, but since there are scam programs on the internet today, you want to make sure that this is the real deal.
Well, you've come to the right place because, in this Auto Online Sites review, I will share with you some of the essential details about this program.
I hope this review will help you make the right decision before you decide to invest your money in this program.
And there are some things that you really NEED to know about before joining.
Let's start.
Auto Online Sites in a Glimpse
Training

Tools

Value for Money

Income Potential
Summary
Auto Online Sites is a program that claims it can help you make $1,000 per day by copying a website.
It is created by a so-called Paula Shaffer who also claims she has a secret system that will automate the money-making process for you.
Honestly, the best way of creating an effective website is for you to create high-quality and engaging content for your site that your site visitors will find value in.
It will not be to just copy a website from a mysterious person you do not even know who is, in my opinion.
That is why I recommend that you find other legit opportunities online that can truly provide you the results you deserve.
What is Your Auto Online Sites and what does it offer?
The first time I've visited the website of Auto Online Sites, I became skeptical right away because it's a so-called creator, Paula Shaffer claims that I'm already making money as I watch her video.
Paula gives you an impression that making money online is so easy to do that even while you watch her video, it's already flowing into your account.
She will also tell you that she has a secret system that will automate the money-making process for you. It will do all the tasks for you, so you don't need to invest a lot of time and effort into it.
All you need to do is just to sit back and relax, while the money flows into your account.
In the middle of her sales video, you soon find out that she wants you to copy or clone her successful website that supposedly has been making thousands of dollars online.
Although she does not promise you to make this kind of money overnight, she will claim that earning $1,000 per day is a breeze through her revolutionary system.
She will also tell you that she will only require you to pay a minimum fee of $97 to get into her program.
According to Paula, this is relatively cheap compared to the money you'll be making when you're in her program.
Auto Online Sites Red flags
The prospect of earning $1,000 per day is indeed a promising offer especially to some people who are looking for an easy way to make money online.
But in reality, this is NOT the case because creating a sustainable income online requires time, effort and proper training to succeed.
Honestly, you should, in my opinion, not expect much from any secret system of shortcuts that can supposedly magically generate the money for you.
That's why when I saw all the claims on Auto Online Sites' landing page, I made it a point to do my work and conduct my own investigation to check for any discrepancy on their site.
I did find several red flags that I will share with you in this review, and you really need to know about these.
Here are some of the red flags that I have uncovered from their sales page you need to consider before investing any money.
Red flag #1 – Cloning a website yields duplicated content
Based on Paula's claim, to make money online through her system, all you need to do is to copy the so-called successful website that's been generating a lot of money for her.
She will also tell you that once you decide to join her program, you'll be provided with a site that contains all her so-called high-quality content on it.
You need to understand that copying a website has several drawbacks and it's NOT as simple as it seems because you can't really expect that it will be as successful as what Paula's site achieved when she launched it on the web.
Also, there are factors to consider in creating a website especially now when the search engines like Google is more comprehensive in detecting plagiarize or duplicated content.
The search engines hate duplicate content, and they will penalize any site that has these types of content on it.
That's why when your website has the same content as Paula's site, there's a possibility that your site will be penalized, and it will no longer be visible in the search results.
Especially because you will not be the only person having the exact same content as you are not the only one buying the system.
When that happens, you can no longer gather organic traffic.
You can still get paid traffic through paid ads, but that will cost you more money, and it requires some technical skills to properly launch a paid ad campaign.
And even with paid ads, you need to have high-quality content to have a chance to monetize the traffic.
Honestly, you can end up wasting time and money if you don't have the skills to pull it off.
Therefore, if you want an effective site, then you need to have unique and quality content that provides value to your site visitors.
If you just copy a website like what Paula wants you to do, then you're just likely pumping out garbage on the internet, in my opinion.
I hope you take this red flag seriously before you decide to join this program.
Recommended: Click to Learn the Best Way to Make Money Online
Red flag #2 – Are the testimonials real?
On the Auto Online Sites sales video, Paula shows several testimonials of her so-called successful clients with claims that they are making thousands of dollars online.
But she doesn't show any video or even photos of her so-called customers. You'll only see some text of their testimonial, and that, for me, is a big red flag.
You can't verify if these testimonials are from real customers in her program.
In fact, anyone can easily make up success stories and read them aloud on the sales video, which, in my opinion, is what Paula might do in her video.
You will also notice that there is an auto-generated text feed of income claims at the bottom of their sales video.
These income claims supposedly come from successful members, but like the claims on her sales video, we can't verify these claims to be true.
The issue I have with these testimonials is the fact that they can't be verified without tangible proofs like photos and videos that clearly show the face of clients on their program.
Again, this is a significant red flag you need to be aware of and consider if you're planning to purchase this program.
Red flag #3 – Paula Shaffer is NOT a real person
On the sales video, you are told that Paula Shaffer is the creator and owner of this program, but there's no reference of her anywhere on their site.
In fact, she doesn't show any photo of herself, and she doesn't even reveal her contact details.
So, there's no way for you to contact her in case you've encountered any issue on her program or have questions to her before joining.
How can you trust a program when you don't even know who you are dealing with and the real owners are not interested in revealing their true identity?
If she claims that her program can provide you an opportunity to make a lot of money online, then why can't she reveal her real identity?
In my opinion, the owner should have at least revealed his or her contact details and real proof of previous success, so you can verify who they really are including their background in online mark