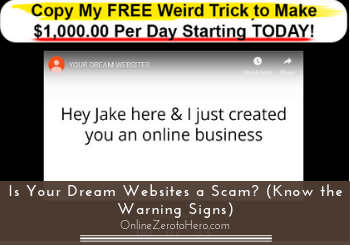 If you have visited the sales page of Your Dream Websites, then you might have seen that they are offering people the chance to make $1,000 per day.
This offer might have caught your attention, but you want to know if this program is the real thing.
First of all, I would like to congratulate you for taking the time to do your own research. It is important to know all the details of a program before you decide to invest your money in it.
Is Your Dream Websites a Scam? Or is it a legit opportunity to provide you the financial freedom that you're longing to achieve?
You'll soon find out from this review since I will provide you with all the info that you need to know.
Your Dream Websites at a Glance
Training

Tools

Value for Money

Income Potential
Summary
Your Dream Websites is a new system that claims it can provide people the opportunity to earn at least $1,000 a day. According to Jake, its so-called owner and creator, you will only need to clone his website and wait till the money flows into your account.
In my opinion, this claim is unrealistic and the method that Jake is suggesting is NOT the best way to create a website since cloning a site including all its content will just create duplicated copies, which the search engines like Google hate the most.
I don't recommend this program due to the many red flags I've uncovered when I did a thorough investigation of their sales page. I would suggest that you search for other legit ways of starting your career in affiliate marketing.
Click to See My Top Recommended Way to Make Money Online Instead
What is Your Dream Websites and what does it offer?
When I visited their sales page and watched their sales video, I found out that this program is created by a so-called Jake who happened to have stumbled upon a system that can easily generate money online.
The first thing he will show you on the video is a ClickBank account that has no earnings yet, but after a few clicks, he will claim that it's ready to go and it's now ready to make money online.
He will even say that it's now earning while you watch the sales video, so does this mean that he is giving away money out of his pocket?
We can't really say but it's a good tactic to keep people peeled on the sales video.
In fact, the most incredible thing he will say is that his system will do all the heavy lifting, so all you need to do is just sit back and wait till all the money flows into your account.
However, you need to check the stats on your ClickBank account to see if the money is really coming or not.
In the middle of their sales video, you'll soon find out that he wants you to clone or copy his websites, which supposedly made him $10,000,000 in just 4 years.
Although he is not promising you to make millions overnight, he will claim that earning $1,000 per day is relatively easy if you use his system.
Also, at the end of the sales video he will reveal to you that your ClickBank account has already earned $175, but before you can access that account, you'll need to pay the basic fee of $37.
Your Dream Websites Warning signs
Earning $1,000 per day is a promising offer for someone who is looking for an easy way to make money online.
However, this is not the case in real life since making money online requires hard work and some proper training to succeed.
There are no shortcuts or secret system that can magically generate the money for you. That's why I did my homework to do my own investigation to see if there are red flags in this program.
Fortunately, I did find several red flags from this program that I will share with you in this review.
Hopefully, this can provide you with the insights you need before you make the final decision.
Warning sign #1 – Can you really earn money by cloning a website?
Based on Jake's claim, all you need to do is to copy his website which according to him have been very successful in generating money online.
According to Jake, once you join his program you will be provided with a one-page site that contains all the copy he has on his own site.
However, cloning a website is not as simple as it seems and even if they say that it's easy to do, you can't expect to replicate the level of success that Jake has achieved on his site.
There are several factors that you need to consider when creating a website. First of all, you can't just copy the content on his website, because search engines like Google don't like duplicated content.
When your website has the same content as Jake's site, there's a strong possibility that your site will be penalized by the search engines, and once that happens in your site you will no longer be visible in the search results.
If your site is invisible, it will no longer have the capability to gather organic traffic, but it can still get paid traffic. This, of course, requires a bit of skill, you can end up wasting a lot of money if you do not know what you are doing.
As a matter of fact, an effective website will have high quality and unique content that provides value to your site visitors. Without quality content on your site, it will not be as effective as you want it to be.
Recommended: Click to See the Best Way to Make Money Online
Warning sign #2 – Are the testimonials real?
Once you watched the sales video, you will see several testimonials of so-called customers who have earned huge amounts of money using this system.
However, when I checked some of the images they used on their testimonials, I found out that these are actually stock images from Shutterstock and Mediabakery.com, and here are some of the proof I've gathered from the web.
The other testimonial in the sales video is also a stock photo from Mediabakery.
Another thing you will notice on their sales page is the auto-generated text feed of income claims from their supposedly successful members.
The problem I have with these testimonials is the fact that it can't be verified and since we already found stock images on their sales video, this is considered a significant red flag that you need to be aware of.
Warning sign #3 – Who Jake really is?
When someone claims that he can teach you how to make $1,000 a day but chooses to hide his true identity then you should be wary.
If you visit their sales page, you'll soon find out that there's no reference of Jake on the sales video or anywhere on their site.
There's no way for you to contact him or at least a social media account where you can verify that you're dealing with a real person.
In my opinion, we really don't have any information about who Jake really is, so how can you trust if he will honor all his promises?
Warning sign #4 – They cannot guarantee your success
If you read the notice at the bottom of their website, you will soon find out that they don't actually guarantee income or success, and the examples on their sales video do not indicate any future