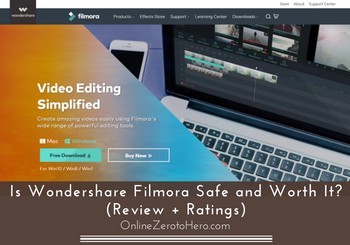 If you are looking for a video editor, you have very likely heard about Wondershare Filmora.
It is a video editing software that has a lot of ads and attention online – but is Wondershare Filmora safe and worth it?
This is something you need to know before investing into any software or online marketing tool. In this Wondershare Filmora you will get the answer for this as well as all the details about what you can and cannot do with the software, so you can easily see, if it is the right solution for you or not.
Wondershare Filmora Video Editor at a Glance
Features

Usability

Value for money
Summary
Wondershare Filmora video editor has a lot of features, and can be a good option when you are looking for a new video editor. It is fairly easy to use, even though it is not as easy as some other similar tools.
Is Wondershare Filmora safe?
Before downloading any software, the first thing you need to be sure of is, if it is a software that is safe to download.
You do not have to worry about this when it comes to Wondershare Filmora. It is a legit and safe tool to download and use.
The company behind Filmora (Wondershare) has existed since 2003 and has won several awards from for example Forbes and Deloitte. It currently has users from more than 150 countries.
So it has as a solid foundation, and as you can see, it is a legit software, so you do not have to worry about it being safe or not, if you decide to get it.
What can you do with Wondershare Filmora?
Now you know that Wondershare Filmora is safe to download and use. So let's look at what you can do with this video editor, as this is of course also very important.
In general Wondershare Filmora has many features, and it is regularly updated. Below I will show you some of the most beneficial and important features in my opinion.
Import and edit your own videos/images
One of the main points of having a video editor is to be able to edit your own videos and create stories out if them. So you need to be able to import your own videos and images, and you can of course also do this with Wondershare Filmora.
You can either do it by importing your files or by a drag and drop function, so it is easy to get your files into the program and get started.
Once you have your video files there, you can split them, connect them, and edit them in various ways to create you own stories, before exporting your project to a new video file.
This is the basic function of any video editor, and Wondershare Filmora makes it fairly easy to do. The editing part itself is very similar to any other video editor, so if you have used an editor before, you will quickly figure out how to use it. If you have not used a video editor before, it will still not be too difficult to learn how to use it.
You can make your videos more interesting by using some of the other features Wondershare Filmora offers, which I will go over below.
In-built screen recorder
Wondershare Filmora has a function that I have not seen in many video editors. It has an in-built screen recorder.
This means that you directly from the editor will be able to do screen recordings. It is easy to use, and it will then import your recording directly into the editor, so you can use it for your projects.
Personally, I prefer using the Icecream Screen Recorder for my screen recordings, as it is a tool specifically for this and therefore has more features and functionalities.
But I think it is great that Wondershare Filmora has this function, and if you are just getting started and are planning to get this software, it can be a way to save money on a screen recorder, since you can use the in-built one.
Add music and sound effects
It can be great to use music and sound effects to make your videos more engaging – of course depending on the context, as it is not always appropriate:-)
Wondershare Filmora has a media library, where you can add music and sound effects to your videos for free. There are not a lot of options to start with, but there are still some good ones.
If you would like more options than what is included for free, you can buy additional music and sound effects through the Wondershare effects store. But more about this in the pricing section.
Split screen
Wondershare Filmora offers a split screen feature that makes it possible for you to create a video with several videos playing at the same time in different parts of the screen.
On the image above you can see the different ways, you can split your screen. You can have from 2-6 screens playing at the same time.
Not a feature I have personally used for my videos so far, but for the right occasions this can be a great way to create engaging videos.
Add filters and overlays to your videos
You can add different filters or overlays, if you find this appropriate.
Filters are where you for example can add rainbow colors to your video, add a sun filter so it looks like it is recorded in the sun etc. There are quite a few to choose from.
The overlay is similar to the filters. It makes it possible to put a layer on top of your video. For example to make it look like it is an old cinema movie playing, or have a frame around the edges that looks like water.
Again not something I have personally used a lot, but the options are great to have, and it can be a way to make your videos more interesting.
Add transitions between video parts
If you have recorded videos before, you will know that you most of the times do not get it right in one take. Therefore, it is often necessary to cut certain parts of the video to cut out the mistakes.
When doing this, you need to be able to make a smooth transition to the next part of the video, without making it too obvious that you have cut out a part of the video.
This is what transitions can be very useful for. Wondershare Filmora has close to 200 transition options, so you will definitely be able to find a transition that fits to your video.
You can find both very neutral transitions, or some with more effects. In general, I like the transition options Wondershare Filmora has – the only thing is that it can take a long time to find the right one, as there are many to choose from:-)
Add titles, credits, or subtitles
Adding text and titles to your videos can add a lot of value for the viewer and make it more engaging.
Any good video editor will make it possible to add this. Wondershare Filmora has quite a lot of options to do this. You can for example add opening titles, lower 3rd titles, end credits, and sub titles.
Overall, I like the options it has and compared to many other similar editors it has some good options and quite a lot of them.
Blur parts of your video
I think it is very important to have the option to blur parts of a video in an editor. It can either be sensitive information, if you for example are doing a screen recording and are logging into an account, where you do not want your personal info to be in your recording.
It can also be to blur faces in videos, as this can sometimes be useful. Luckily this is an option in Wondershare Filmora. It is however not so easy and logical to find this feature, as it is not a button like the other features.
You instead have to right click the clip you want to add the blur to in the editor. Then a box comes up, where you have to choose "power tool".
Now a screen comes up, where you can choose what kind of blur you want to add. You can choose mosaic, where you can blur a certain part of the screen. You can choose to blur a face, where the blur will automatically follow the face, if the person moves (if the person does not move too fast). And you can choose tilt-shift, where you can blur the background of the video.
If you want to blur a face, you can also choose to put a cartoon face instead of a blur to hide the person's face.
Overall a great tool to have, as long as you know where to find it, as it is hidden compared to the other tools the editor has.
Can you get help for Wondershare Filmora?
When getting a software, it is always good to know in advance whether you can expect to get help, if you need it.
If you should need Wondershare Filmora help, there are a few different options. Wondershare Filmora has a pretty big help section with tutorials (including video tutorials) on their website, where you can find answers for many questions.
If this is not enough, there is also a live support in the website, and it is available in several languages. So if you should need help, there are some good options. This tech support is only available for the paid version.
Pricing
Wondershare Filmora has different pricing options. You can try it for free, so you can get a good idea about what features it has and how you like it, before you buy it.
I think this is a great option to have. The free version can however not be used for any videos you need to use, as they will have a BIG Wondershare Filmora watermark. So the free version is only to see what you can do with the editor, which can help you to decide, if it is the right tool for you or not.
To remove the watermark and thereby get more professional looking videos, you need to upgrade to a paid version.
I think this is fair, as they can of course not give everything away for free, and I do also not mind paying for a good tool that can make my work easier and more effiecient. And as long as it is possible to test the features and tools for free before paying, I think it is fair for all.
As you can see above, you can either choose to get a lifetime license, or you can choose to pay yearly. A lifetime license will cost around $60, whereas a yearly license will cost around $40 per year.
Be aware that these are the prices for individual use. If you need to use Wondershare Filmora for business or educational use, you need to get a different license, which will be more expensive. The exact prices for this can be found on the website, if it is relevant to you.
Additional costs
In addition to the license for the software itself, you can also buy more effects and options through the Wondershare Filmora effects store.
This is a store, where you for example can download more sound effects, music, video effects, title options, and more.
There are also some packs you can download for free, but most of them are for an additional fee. The price depends on the specific pack, but they are usually between $20-$40.
You can also get a subscription for the effects store, where you will get access to all the effects. This will be around $10 per month or $100, if you buy a yearly subscription.
So if you are using the editor a lot and need some specific effects that are not included with the basic license, it can be worth checking out the effects store.
Is it worth it?
Overall, Wondershare Filmora is not too expensive, and it is an editor with a lot of features, and it can be used both for MAC and Windows.
If you are looking for a video editor for a reasonable price, it is definitely an option. Personally, I prefer Movavi video editor, as it gives a little better value for money, and it a bit easier to use.
But overall Wondershare Filmora gives good value for money, and it can be a good way to get started with editing your videos. So if you like the features it has, it can be worth it – especially if you go for the lifetime license, as it gives a lot better value for money in the long run.
Final thoughts
In general Wondershare Filmora has some good options. But let's sum up the pros and cons, so you can get a better overview before deciding, if it is right for you or not.

Pros:
Has free trial version
Safe and legit to use
Good amounts of features and effects
Different pricing options depending on your needs

Cons:
Not as easy to use as some other video editors
Overall, I do not have many bad things to say about Wondershare Filmora video editor. It has some good features and tools, it gives pretty good value for money, and you can do all you need to do to create great videos.
The only thing I can say compared to my favorite video editor Movavi, is that Wondershare Filmora takes a little extra time to learn how to use, as some of the features and tools are not so logical. But other than that, it is a great tool and definitely one of the video editors worth considering.
If you have any comments, questions, or have any experiences with Wondershare Filmora video editor yourself, I would love to hear from you in a comment below.