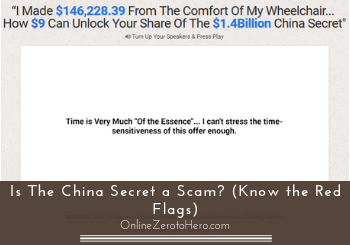 If you happen to come across The China Secret website, then you may have seen the incredible income claim amounting to $146,228.39.
This is the boldest claim from a make money online site that I have encountered recently, and I have reviewed a lot of these programs.
This is one of the reasons why I got curious about what their system really is and how they can achieve this feat.
First of all, I would like to congratulate you for visiting my review and for taking your time to do your own research.
I know you're one of those people who also got curious about this program, and you want to answer the question, "is The China Secret a scam?"
You'll soon find out from this review.
The China Secret at a Glance
Training

Tools

Value for Money

Income Potential
Summary
The China Secret is a system that taps the new messenger marketing opportunity on Facebook. The so-called creator Robert Walter (pen name) claimed that he has made $146,228.39 in just 3 months since he discovered this loophole.
I don't recommend this program due to the many red flags I have discovered on their sales page when I did my own investigation. Some of the warning signs I found are the following:
The system is not fully explained by its creator
Richard Walter is just a pen name, you don't know who the real owner of the system is
There are no legal pages (income disclaimer, privacy policy, and terms of the agreement
Joining this program is, in my opinion, risky. That's why I would suggest that you find other alternative opportunities on the web.
Click to See My Top Recommended Way to Make Money Online Instead
What is The China Secret and what does it offer?
When you first visit their sales page, the most significant thing you'll notice is the incredible income claim on the header text.
Although income claims are a common thing in these types of programs, what I really want to see are the features of the system they are offering and what value it can bring to me as an online marketer.
Income claims look good on the sales video, but what we're after are the results these programs provides.
Robert Walters, the owner and founder of this system claims that The China Secret is a brand-new loophole that takes advantage of a 1.4-billion dollar market on the internet.
According to Robert, he discovered this system just 3 months ago and it changed his life tremendously for the better.
In fact, he also claims that through this system, he is now earning $28,432.22 per day.
He doesn't have any marketing or technical experience, so according to him everyone can also do it no matter what your background is, it's possible to earn that amount of money.
How is this possible?
Robert says that his system will take advantage of the new messenger marketing opportunity which is a native feature of Facebook Messenger.
He also said that he patterned his system to the opportunity he discovered on WeChat, which is a Chinese messaging platform that generated $40 billion dollars in profits last year.
He had used the same loophole but now using Facebook Messenger, because it is, after all, the most advanced messaging application due to its advertising and commerce features.
Now, you will be one of the very first people who will yield the rewards of this opportunity once you decide to join his program.
This sounds sweet but you're not the type of person who will rush into a program without knowing all the details about it.
This time let's talk about the warning signs I found about this program.
The China Secret Warning Signs
I personally don't like programs that claim everything will be fast and easy because any make money online program will NOT succeed if it relies on an automated system.
I have reviewed a lot of programs in the past and I can easily point out several of the red flags in a program when its main objective is to lure people closer to their system, so they can successfully sell it.
The same methods are being employed by programs who want to encourage people to act fast without doing proper research because through research people will find out what their system really is and what they can provide.
When I delved deeper into The China Secret, I found out several warning signs that I will discuss on this review, so let's start.
Warning sign#1 – Triggering your emotion to lure you closer to their product
When you watch the sales video, Robert will first tell you a story about his struggles and how he lost his job, home, and most significantly his wife due to the current economic situation.
He is also a fortune teller because he will share with you the events that will unfold in 2019, which is a global financial crisis, and how this will affect a lot of people including you.
He will then complain about the many Gurus on the web, and how they have scammed him of his money.
Fortunately, he found a way which he called the secret system that will eventually solve all these problems including how he managed to buy his dream house in just 3 months!
In my opinion, this sounds all too familiar and I have heard the same thing from other programs who claim to provide an easy way to earn a lot of money online.
I'm not saying that this program is another get-rich-quick scheme, although based on his income claims earning that kind of money takes more than 3 months to achieve.
I think this is a significant warning sign that you need to be aware of because Robert is more focused on getting you excited, but he is nowhere near on explaining how his system has achieved what he claims on the sales video.
Warning sign#2 – There is no proper explanation on how the system really works
Honestly, I'm a bit skeptical about a system that promises something rewarding but doesn't lay out the steps on how I will succeed in using that system.
This is one of the major red flags I found in the sales video since Robert is not really interested in sharing how his system works.
He will just explain to you that his system will only cost $9. It's cheap compared to other products but you're not allowed to know more than that.
You just need to take his word as is and that the system will work flawlessly in your favor.
However, this type of sales pitch is unacceptable, because as a consumer we have the right to know more about the product we are buying.
The cost of the product is not the main concern here, whether it's cheap or not. It's the obligation of the creator to tell us all the details of the program, so we will know if it's really for us or not.
Recommended: Click to See the Best Way to Make Money Online
Warning sign#3 – The same old scarcity tactics
According to Robert, there are only 100 positions available for The China Secret system and you need to act now before it's too late.
Honestly, this is an old trick used by online marketers, but don't get me wrong – it's NOT an unet