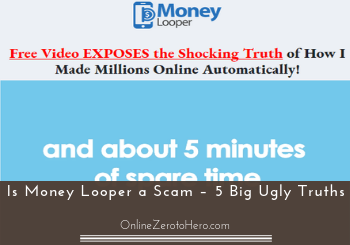 If you're searching for a way to make money online and you happen to come across Money Looper, then there's a strong possibility that you got curious about this system.
Since some of the points discussed in their sales video seems reasonable enough for generating a passive income online, it might encourage you to join their program.
However, since there are so many products with unrealistic income claims today, it's best to practice due diligence and do a bit of research.
Firstly, I would like to congratulate you because you have come to the right place. In this Money Looper review, I will show you some of the warning signs that I found in this system.
So, if you're asking yourself, "is Money Looper a scam?" it's all up to you to decide, but I urge you to read my review, so you'll be in a better position to decide if this system is legit or another waste of time.
Let's dive in.
Money Looper at a Glance
Training

Tools

Value for Money

Income Potential
Summary
Money Looper is a system that relies on a software to find money loopholes on the web, and it claims that it can provide you with an opportunity to make a lot of money online through these loopholes.
However, a system that relies heavily on automated software is something that you should stay away from because making money online requires effort, training, and patience.
Using software to run your affiliate site will only put it in a precarious situation like being penalized by Google and the other search engines.
Click to See My Top Recommended Way to Make Money Online Instead
What is Money Looper and what does it offer?
Based on their sales video, I found out that "Mike Thomas," the owner will teach you how to leverage money loopholes on the web through his software.
What he meant by these money loopholes are low-hanging income opportunities in ClickBank. He will provide you with several niches from testing apps, health, and fitness to money-making opportunities that are now available in the CB marketplace.
He will also claim that he developed this system to get even with other make money online gurus who have deceived innocent people in the past including him. Mike was scammed before by these gurus, and that motivated him to find the perfect system or loophole to get even with them.
 In order for this system to work, he will need partners to leverage these money loopholes on the web that according to him are being exposed every week. He will also say that he doesn't have enough people in his team to manage all the things in his business, so he needs you to be his partner.
At first, it sounded like an MLM or Multi-Level-Marketing scheme, because in this type of business model you are required to find someone who is already in the business.
We all know how MLM works especially when it comes to profits; everything is shared by all partners and the biggest income will go to the people on the top of the pyramid. Basically, MLM is a complex business model based on the notorious pyramid scheme.
However, Money Looper is not based on MLM according to Mike, but it will still fall under the affiliate marketing business model. Well, that, in fact, is a legit way of making money online and is used ethically by thousands of people today.
In affiliate marketing, you will earn through commissions, but it will vary from vendor to vendor depending on the products you promote.
Now, let's go back to Money Looper and how this system works?
According to its creator, once you buy his product you will be given access to his software that will hook you to an affiliate network.
You will also get a set of training materials to help you get started, and a unique affiliate link to promote products from various niches.
So, these products are handpicked by Mike, and according to him, is the best products that you should promote.
However, he will NOT promise you any outrageous earnings, but he will show you his income, which will range from $900 to $1,500 per day coming from commissions.
In my opinion, it's good not to promise anything but the fact that you're showing off your high earnings is already a red flag and something to be suspicious about.
It seems it's just a way for him to get people in his program, but I'm not buying his sales pitch.
Money Looper Warning signs
There are many affiliate marketing programs on the internet today and you can get into these affiliate networks for FREE, you don't need to pay the company to promote their products.
I'm also into affiliate marketing and I know that it takes time, effort and some patience to succeed in this field.
You'll also need a platform where you can meet other successful affiliate marketers and know the steps they took when they were starting out.
Although Money Looper is based on affiliate marketing, it is unfortunately not unlike other programs as there are many programs that make claims like this.
The owner claims his system is easy to use and it will rely on a software to find the loopholes. You, in turn, will leverage these loopholes to make money online, which I think is too good to be true.
In my opinion, using an automated software to help you make money online is already a big red flag. You shouldn't rely on a software to do something very important, especially in affiliate marketing.
There are also other warning signs that I saw in this system and I will enumerate each one of them.
Warning sign #1 – Triggering your emotions to hook you up to their product
When I first saw their sales video, I was a bit amazed by the narrator and how he tells his story. You'll feel like you're listening to an audiobook rather than watching a sales video because his story is very moving especially when he tells you that he was a janitor before.
His life is rock bottom and his wife is having a breakdown because life is so hard, and they were being scammed by online gurus, who promised them that they will make a lot of money online but failed to deliver the results that they were looking for. 
To make the story short, Mike found a way to leverage the loopholes and he partnered with a group of developers to make a software that will automate the whole process.
This seems to be the climax of his story and the start of his sales pitch.  It sounds very encouraging and if you are not careful enough, you'll be lured into the pity game.
Once you sympathize with the narrator, he will get your undivided attention and it's much easier for him to get his message across.
This is the kind of tactic being used by online marketers to broaden the attention span of their prospects.
I'm not saying it's bad or unethical but it's way too exaggerated for a sales video.
As for me, you don't need to trigger the emotions of your prospects when you have full confidence in your product.
If it really works then go directly to the features and benefits it can provide. Let your prospects decide if your system will work for them or not.
Warning sign #2 – The connection between Money Looper and Mike Dee Rich Janitor
Another thing I find strange in the sales video is when Mike actually admits his name is "Mike Dee." When I searched the web, I found out a program created between 2009 to 2010 and is called "Mike Dee Rich Janitor."
When Mike shows off his ClickBank earnings, it's from a 2009 income report which means this system is just a rehashed program. There might be several reasons why they've changed its name to Money Looper, but it could be to hide their negative reviews from the past.
They don't want potential customers to find out who they really are since the product is already 8 years old.
The sales video they are using has the same tactic and tone as "Mike Dee Rich Janitor", which was a program created by the same person 8 years ago. And it's pretty clear that they're using the same dialogue in the Money Looper sales video.
Therefore, you can only assume that they MIGHT be providing the same old training like what they did with the Rich Janitor program. If they have not taken the time to even edit and update the sales video that is supposed to represent the product, it definitely worries me.
This is a major warning sign that you should c