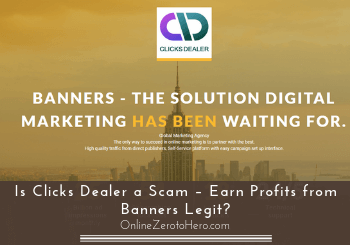 There are several platforms on the web that promises people to make money online just by doing menial things like buying and selling banners ads.
When I did my own research, I found several sites that offer this system and one of them is Clicks Dealer.
This particular site sells banner ads on their own advertising platform, which usually run various third-party sites.
Buying or selling their banners will supposedly earn you some cash and the claim is you can profit as high as $200 – $1,000 a day.
Is it really possible to earn that amount of cash just by buying and selling ad banner, or is Clicks Dealer a scam?
Clicks Dealer at a Glance
Tools

Training

Value for Money

Income Potential
Summary
Clicks Dealer is an advertising platform that offers $200 to $1,000 profit per ad banner on their marketplace. They also offer $1,000 per referral through their affiliate program.
In my opinion, these claims are too good to be true and buying ad banners from their marketplace can be risky.
Click to See My Top Recommended Way to Make Money Online Instead
What is Clicks Dealer and what does it offer?
When I first encountered their website, I found out that they claim to be an advertising marketplace, and they are part of a huge advertising ecosystem that leverage the Internet.
However, it's clear that Clicks Dealer is all about ad banners and selling it to their clients. So, eventually they will encourage you to purchase the banners that they claim to be published on third party sites.
Therefore, when you buy an ad banner from them, you'll have the opportunity to earn profits from these banners when people click them on those third-party websites. You can also sell them to other ad partners (members) at a higher price on the Clicks Dealer marketplace.
The first issue I found on their site is the lack of info or details of how this actually works. It feels like they are asking for your money without even giving you a bird's eye view of the whole process.
In my own opinion, this is done on purpose because they want you to contact their account manager, and these people will tell you how the whole process is done. Although it's clear that their account managers are also their sales rep.
To have a better idea on how their system works, I will provide some detailed info about the four main aspects of their platform. This will show you some of the warning signs that you should be aware of before you start buying those online banners.
Clicks Dealer Warning signs
We know that earning $200 – $1000 a day just by buying and selling ad banners seems too good to be true.
It's literally impossible for anyone to earn that amount of money online in a short period of time if they are just starting out.
But some people will just look at the income claims in the sales video without doing proper research. So, it's highly probable that they will miss the warning signs on this platform.
This is the very reason why I'm doing this review, so I can enumerate the many discrepancies from their claims, and to show you what Clicks Dealer really is.
Here are some of the warning signs that you should be aware of before you make your final decision.
Warning sign #1 – You will be required to pay $250 before you can open an account
In order for you to activate your account, you'll need to first give them your money!
However, I find it odd that they don't even tell you the required deposit. They will just give you several options and you will need to select an amount.
You will see several packages but there's no value or amount designated on each package. In total, you'll be given five packages with their corresponding matching bonus.
So, each time you deposit or buy an ad banner, you will acquire a set percentage, and this will give you longer access to their account manager.
Here are the different packages:
Diamond Package – VIP mentoring and 200% matching bonus
Platinum Package – Account manager for life and 100% matching bonus
Gold Package – Account manager for 3 months and 75% matching bonus
Silver Package – Account manager for 1 month and 50% matching bonus
Bronze Package – 20% matching bonus
These packages may seem a bit lacking without the cost, so I did a bit of research and I found out from their 'terms page that' you are required to shell out $250 for the basic package before you can open an account.
This means that $250 is just the bronze package and that's the minimum cost you'll need to open your account on their platform.
Another platform called Banner Bit is also offering the same type of packages, so it's easy to conclude that they are using the same system.
In fact, several people already reported that they have been charged as high as $5,000 to get their gold membership on Banner Bit – such a ridiculous amount!
Recommended: Click to See My Top Recommended Way to Make Money Online
Warning sign #2: Buying expensive banner packages
After your first deposit of $250, you'll now be able to buy an ad banner from their marketplace. There are different types of banners, some will cost $25 and others will range as high as $1,000.
There are also special types of banners under the World Cup and VIP sections that includes expensive packages for as high as $25,000. To get these banners, you either bid for them like on eBay or you can buy them directly.
However, you'll need to have money deposited on your Clicks Dealer account before you can purchase any banner from their marketplace.
Once you've purchased a banner placement, you will generate revenue from it through the clicks that it receives. Essentially, these banners should be live on the third-party sites that Clicks Dealer has on its network.
But the thing that bother me the most is that large companies they claimed to be working with them are not really selling banner ads.
Think about it, why would companies like Toyota or Nike sell banners in the first place? Do they need money to run their ad campaigns?
They would just launch a massive campaign to promote their products. After all, they have the resources to accomplish it on their own without the help from third-party ad platforms like Clicks Dealer.
Another red flag is the process of monitoring your banner ads. How would you know the number of traffic and clicks your banner is getting? They don't have the monitoring tools on their site for this particular task.
Basically, when it comes to pay-per-click ads, Google is the leading platfrom through their Adwords system. Big companies will definitely use them, and people will most likely click ads coming from them.
Unlike banner ads coming from Clicks Dealer who is considered unheard of in the online marketing arena.
Warning sign #3: Is it possible to sell ad banners as high as $1,000?
Another way to earn in Clicks Dealer is to sell your banners back on their marketplace. You'll need to understand that you can only earn if another member will be willing to buy your ad banner at higher price.
In my opinion, it's not realistic to earn $200 – $1,000 just by seling ad banners. Based on my own experience as an affiliate marketer and someone who is doing it for quite some time now. It takes more than that to earn that amount of money.
I seems this claim is unrealistic and just a way to encourage people to get into their platform. In fact, I even searched the web for a proof outside of their website, but I can't find an active member or client that is willing to share their income proof.
Warning sign #4: No info about the owner
I did a lot of searching online to find out who really owns Clicks Dealer. Who really is the main man or woman behind this ad platform?
What I found are some sketchy details that does not state who really is behind it. It just says that a company named Clicks Revenue LTD that has an office in London, but the tricky part is it's operating from Cyprus.
If you're offering your members a fortune just by selling banner ads on the web, then why would you operate from two different countries?
You can also check their tutorial videos on YouTube that clearly show paid actresses from Fiverr. This is a common trend for online marketers nowadays to hire freelancers to do their videos or testimonials, so it may look believable to those who don't investigate further.
Final verdict: Is Clicks Dealers legit or scam?
As you have probably figure out from this review, Clicks Dealer is an opportunity that I cannot recommend. There are better ways on the web that you can take advantage of without putting yourself at risk.
From my own investigation and the facts that I gathered on the web, I decided NOT to give them my money just to prove that I can profit $100 to $1,000 from an ad banner or referral. The risks are just too great for me to ignore.
Additionally, you can find a lot of negative reviews from those who lost thousands of dollars. It's not just Clicks Dealer but also Banner Bit, since they have the same business model.
And the fact they will ask for sensitive details about you like your credit card info, photo ID and bank statement before you can verify your account is one of the big red flags that you need to consider before you make the final decision.
Pros:
There's an account manager that you can use
Cons:
Access to account manager will depend on the package you bought on their platform
You don't know who really runs the company
They will require you to deposit at least $250 before you can buy a banner
You'll need to disclose your personal info like bank statement, ID, credit card details
They don't have any monitoring tools for ad banners
The best alternative I can recommend

There are many sites on the web who will promise you to make a lot money without doing anything significant. All you need to do is to follow their system. This is far from reality and it's all just unproven claims.
If you really want to earn money online in an ethical and legal way, then you'll need to check out affiliate marketing. The most ideal platform that can provide you the proper training and guidance is Wealthy Affiliate.
I have learned a lot from this platform when I was starting out and I can assure you that they will share the proper methods of earning your income online.
If you have any comments, questions, or have any experiences with Clicks Dealer, I would love to hear from you in a comment below.